UPHOLSTERY
& RE-UPHOLSTERY
Our range of upholstery vinyl is hard wearing, anti-bacterial, waterproof and fire resistant, as well as having good abrasion resistance. The range includes 8 different 'leather-looking' colours...
Other colours are potentially available upon request as well as thickness of foam (50mm-100mm). If you have a specific colour or thickness request, please contact us.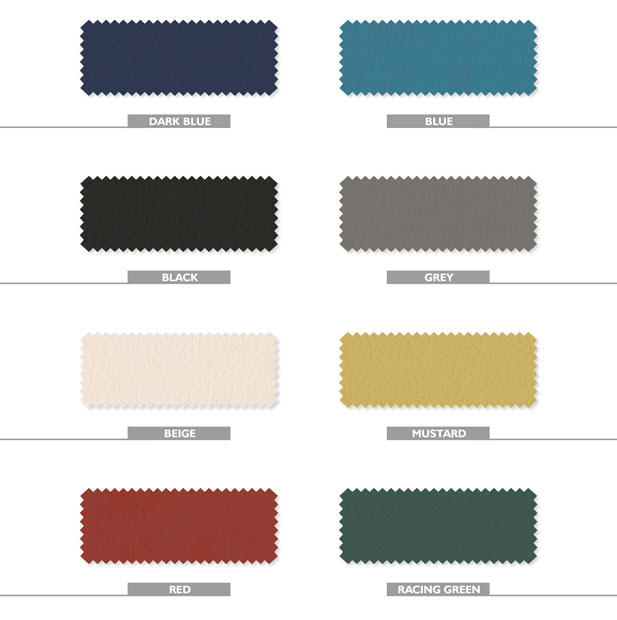 TitanMed offer a couch re-upholstery service for aesthetic purposes, comfort, and improved infection control. We can supply and manufacture replacement upholstery sections to your requirements, often matching colours of vinyl if necessary and foam thickness. We are able to undertake re-upholstery for a range of treatment couches from a variety of manufacturers. As we manufacture our own upholstery panels, we can supply replacement panels completely tailored to your specifications.
CLEANING
INSTRUCTIONS
Our cleaning instructions are summarised below and on the following document which can be downloaded and printed for ease.
Before cleaning ensure any power is disconnected from the mains!
Ensure the treatment couch is in a well ventilated and suitable area, prior to cleaning.
For best results position the treatment couch in an upright position to allow for easier access of posterior areas.
Wipe down the treatment couch with a dry microfibre cloth to remove excess dirt and dust. Ensure all corners and crevices are cleaned as these areas can store build up or micro-organisms.
Use Alcohol Wipes for cleaning Hand or Foot Control (Electric Models Only). Alcohol free general detergent wipes or chlorine-based products are best used for the frame and upholstery. As the wipes are alcohol free, they are kinder to the skin.
The use of disinfectant solutions is limited to a concentration of 10,000 PPM of chlorine.
Although the surface is non-porous and water resistant, wipe the treatment couch dry prior to cleaning with disinfectant or other solutions to leave a streak free fi nish. Be very careful not to saturate the product. Saturation could lead to seepage into hinges and cause rust, which can result in the hinge ceasing and failing to work.
Wash hands thoroughly after cleaning to avoid any possible irritation.
For best results it is advised to perform a minor clean on the upholstery once a week.
Please Note:
To decontaminate the couch, please follow above instructions and use a diluted solution of Hypochlorite with a maximum concentration of 10,000 PPM of chlorine.
It is advised to allow between 10 - 15 minutes to thoroughly clean the TitanMed treatment couch.