UPHOLSTERY
& RE-UPHOLSTERY
Our range of upholstery vinyl is colourful, easy to clean, phthalate-free and anti-microbial contract coated which combines style, safety, and quality.
The fabric is flame retardant (BS5852 Part 2 CRIB 5) and suitable for high traffic contract areas rated to 100,000 Martindale rubs. Independent testing has verified the fabric helps inhibit the spread of bacteria such as MRSA, C.difficile, E.coli and microorganisms such as A.brasiliensis.
The range includes 6 different 'leather-looking' colours as standard upholstery colour choices: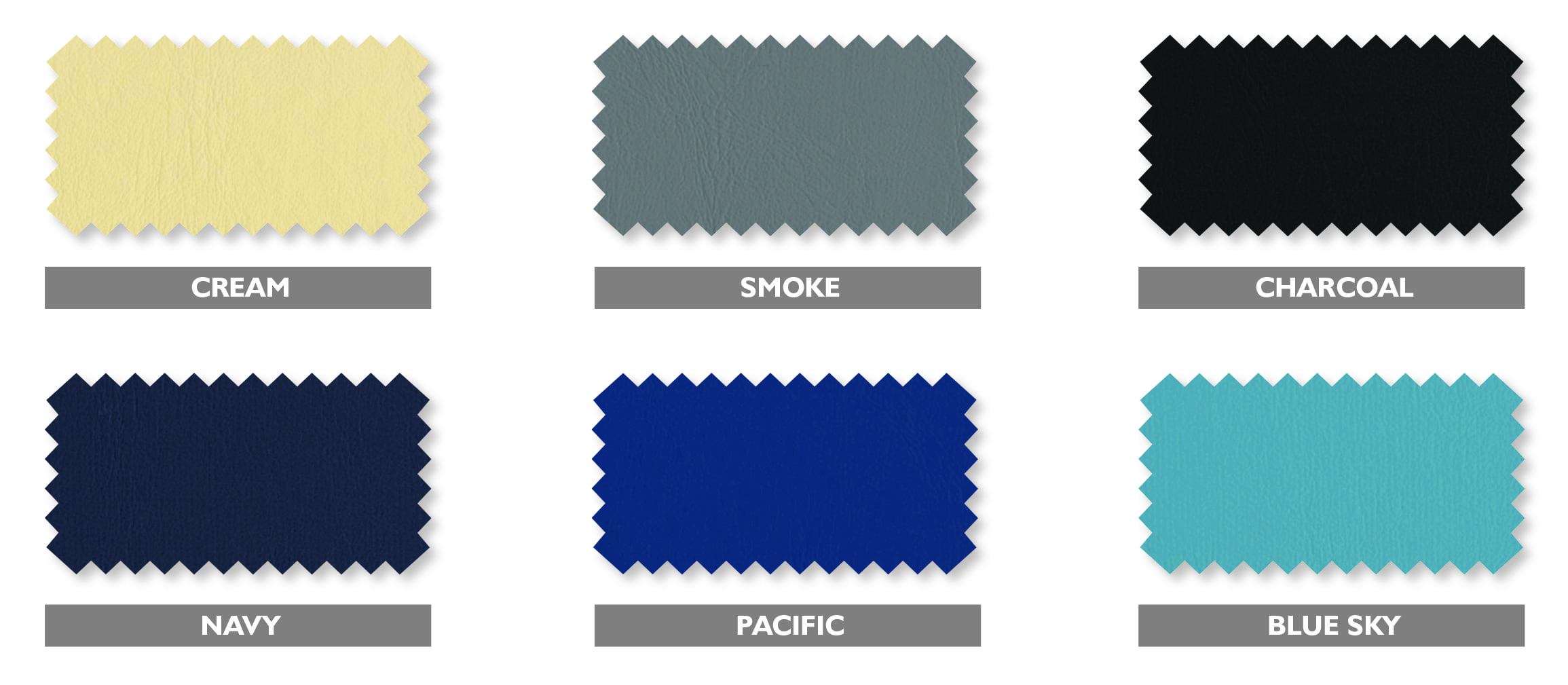 A wider range of custom colours are also available upon request: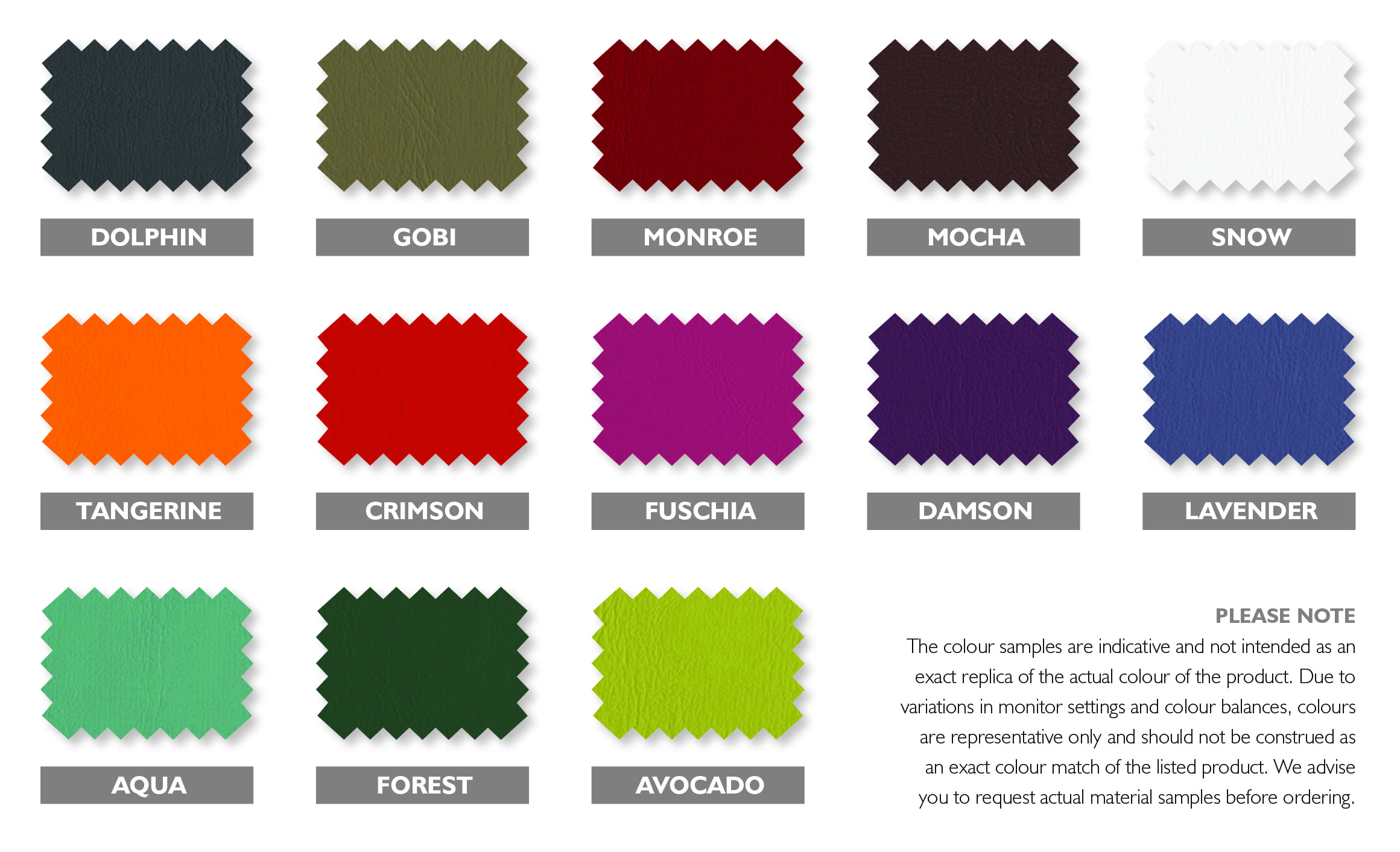 TitanMed offer a couch re-upholstery service for aesthetic purposes, comfort, and improved infection control. We can supply and manufacture replacement upholstery sections to your requirements, often matching colours of vinyl if necessary and foam thickness. We can undertake re-upholstery for a range of treatment couches from a variety of manufacturers. As we manufacture our own upholstery panels, we can supply replacement panels completely tailored to your specifications.
CLEANING
INSTRUCTIONS
Our cleaning instructions are summarised below and on the following document which can be downloaded and printed for ease.
Before cleaning ensure any power is disconnected from the mains!
Ensure the treatment couch is in a well ventilated and suitable area, prior to cleaning.
For best results position the treatment couch in an upright position to allow for easier access of posterior areas.
Wipe down the treatment couch with a dry soft white cotton cloth to remove excess dirt and dust.
Clean the whole surface using liquid hand soap and water (1 part soap to 9 parts water).
Do not use soap or cleaning solutions that contain alcohol, ketones, xylene, acetates or solvents (mineral/white spirits).
If you choose to use a bleach solution, only use 0.5% concentration, which can be prepared as follows:

If the original concentration is 5.6% sodium hypochlorite, dilute in water with dilute 1 part of sodium hypochlorite per 10 parts of water.
If the original concentration is 8-10% sodium hypochlorite, dilute in water with dilute 1 part of sodium hypochlorite per 20 parts of water.

Rinse and wipe with a clean damp soft white cotton cloth to get rid of any excess soap. Repeat as needed and then dry the surface.
Ensure all corners and crevices are cleaned as these areas can store build up or micro-organisms.
It is best to wipe in an 'end to end' motion.
Although the surface is non-porous and water resistant, wipe the treatment couch dry prior to cleaning with disinfectant or other solutions to leave a streak free finish.
Be very careful not to saturate the product. Saturation could lead to seepage into hinges and cause rust, which can result in the hinge ceasing and failing to work.
Wash hands thoroughly after cleaning to avoid any possible irritation.
For best results it is advised to clean the upholstery at least once a week to extend the lifespan. Once a month, you can use a soft-bristle brush for a deeper clean. Plastic or wire sponges, or hard-bristle brushes can damage the material permanently.
Please Note:
For all sorts of stains clean within 24 hours to avoid permanent stains in the surface. After this time has elapsed, effectiveness drops significantly.
It is advised to allow between 10-15 minutes to thoroughly clean the TitanMed treatment couch.